NORTHERN TERRITORY
Due to the relatively low population in the NT both Clubs and ukulele groups are listed here unlike other pages.
Last Updated : 22 Dec 2017
SUNDAY UKE KITCHEN
This is a 7 member outfit that seeks to stretch the boundaries of what is normally considered uke music to embrace rockabilly, blues, jazz, ballads, rock n roll, comedy and straight out pop. Both original music and re-versioned covers are performed and a variety of instruments (not just ukes) are employed to compliment the many vocalists. They appear periodically primarily in the outback away from Darwin. Catch them when you can!
NEXT GIG - Railway Club on Australia Day 26 Jan 2018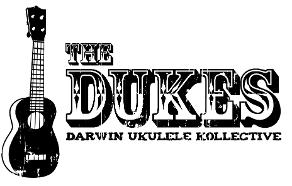 THE DUKES
Meet Tuesday nights from 6pm with free beginners class for the first hour. All practice sets are available on their facebook page under the files menu.
After 7pm an open jam is conducted where anyone can get up to play
The venue is Dinah Beach Yacht club which has a bar and great food in an open air old style territory pub environment.
Facebook :
https://www.facebook.com/groups/darwindukes/
Casuarina Senior College frequently conducts beginner ukulele courses. Courses run at the same time as normal high school terms but are geared towards adult night classes. I strongly recommend you visit the site and subscribe to the newsletter if you wish to go down this path
Other Uke happenings in the NT
1. There is a private group that meet in the Humpty Doo area weekly
2. Rumour also has it "The Strumpets" have reformed